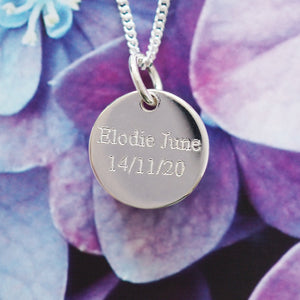 Baby name and date necklace
Regular price $115.00 Sale
If you are looking for a gift for a new Mama, this name and birthdate necklace will be something she will treasure forever. 

If you want to check if your name will fit please send me a message and I can confirm before you buy.

This sterling silver pendant is 12mm wide and 1mm thick. You have the option of buying it by itself to add to an existing chain, or you can order it on the 18" sterling silver flat curb chain in the picture.

Zeal & Heart pendants make the perfect gift for anyone you know who is moving or living overseas, it is a keepsake that can travel with them on their adventures. The pendants are also great for birthdays, wedding presents or just as a little something to let them know you are thinking of them.